When It Comes To Carpet Cleaning…
Carpet cleaning is often something we are all happy to have a go at. But where do you start?. It may seem a straight forward process. But it can be more confusing than you think. There is a lot to take into consideration. Are you moving in to or out of a property? Do you need all the carpets cleaning? Do you just need a spot clean? Should you do it yourself or hire a professional?
Let's take a look at some of the options and the process that is involved.
The first thing to decide is why do you want have your carpets cleaned. Are you moving in or out? Do your carpets just need a really good clean? Is there just the odd stain that need removing?
The process for this is virtually the same. So lets go through this and see what is involved.
3 Easy Steps To Carpet Cleaning
1 Vacuum – First you need to give the carpet a thorough vacuum. Make sure the carpet is clear of any debris or hair.
2 Pretreat – Pre treat any stains and high traffic areas. Concentrate on the walk ways.
3 Get Cleaning – Now it is time for the cleaning. Start from the furthest corner of the room and work you way out.
Just Need A Good Clean
Homes are busy places. Lots of and goings. Through into the mix children running around and pets. It will not take long before dirt and grim starts to get trodden into your lovely fluffy clean carpet. So let's work on bringing it back to life.
Start with the vacuuming. Let's assume that you are not moving and it is just time for a good clean. Carpet cleaning always starts with a very thorough vacuum. The more thorough the vacuum the better the results will be.
In an ideal world the room would be empty of all furniture. However this is not always possible. So decide what you want to move and what is just impractical. If it is a bit of a job to clear the room. You can clean one half. When that is finished, move furniture etc across and clean the other half. Unless it is necessary, you can work round large items of furniture and just clear the floors of the more manageable items. Of course, this is all down to personal preference.
When vacuuming, start with the edging tool. Go round all of the edges making sure they are dust free. If a carpet is not vacuumed often. Dust, debris and hair will be pushed towards the edges. So make sure you pay special attention to these areas. Especially in the corners and around the doorframes. Work methodically to ensure the carpet is thoroughly vacuumed. If you have pets, make sure all the hairs is removed. More on this in our Pet Odour Removal article.
Give Your Carpets A Pre Treat
Once the vacuuming is finished you will want to move onto the pre-treatment.
So what is pre-treatment and why do you need it?
You will want to pre treat before carpet cleaning. This is done by concentrating on areas that are stained. And areas that are used the most. Otherwise know as high traffic areas. These are normally natural paths that form around your house. For instance, the hallway from the front door. Walk ways from one room to another. And areas around furniture. Mainly around sofas and beds. It is these areas that get the most use so they will mostly require the most cleaning.
There are lots of pre treatments available that are specially formulated just for this purpose. For best results, spot clean any stains. For more in depth instructions see our Carpet Stain Removal article. Now tackle those high traffic areas. Most pre treatments are sprays that you apply. Always read the instructions before use. Sometimes you test the product first on an area of the carpet that is hidden to make sure no damaged is caused.
Of course pre treatment may not always be necessary. If there are no stains or the stains are very light. Or if you are carpet cleaning just to freshen up your carpet. Then you can skip this part. Again this is down to personal preference. However is you are moving property. Especially a rented accommodation. It is recommended to pre treat at least the high traffic areas. Letting agents and landlord will use these areas to judge how well the carpets have been cleaned.
Types Carpet Cleaning Machine
Basically there are two types of carpet cleaning machines you can use. A "Pull Back" type or one with a wand. So what is the difference?
As for performance they are pretty much even. Both will have the same basic principle of injecting the carpet with a solution of water and carpet cleaning solution. Then extracting it out via a suction. Both will have a clean tank for the cleaning solution and both will have a dirty tank for the dirty water.
Let's take a quick look at the main difference in the machines.
Pull Back Type
Rug Doctor is a typical example of a "Pull Back" type of carpet cleaning machine. You can find out more about them on the Rug Doctor website.
As the name would suggest. Pull Back carpet cleaning machine work when you slowly pull the machine backwards. Underneath you will have an injection nozzle. This is how the cleaning solution is applied to the carpet. Then you will have a brush to agitate the fibres of the carpet.
Some brushes will rotate and some will move back and forth. But their task is the same. To agitate the carpet fibres. This will loosen deep down dirt and bring it to the top of the pile.
Then we have the vacuum. This will extract the dirt and dirty water. Leaving your carpet fresh and clean.
The great thing about these types of carpet cleaning machines is (unless you are using the stair/upholstery attachment) there's nothing to connect. You simply fill up. Do the cleaning and then empty
The only draw back from this type of machine is the gap you can clean is limited by the width of the machine. They are idea for cleaning square rooms. But if you want to get into tighter space, get underneath tables or go around furniture. You find it a little tricky.
Wand Type
This "Wand Type" carpet cleaning machine example is from Karcher. You can find out more from the Karcher website.
You can obviously see the difference. In this kind of carpet cleaning machine you will still have a clean and dirty tank. But it will be the wand doing the hard work. At the foot of the wand you will find the injection nozzle for the cleaning solution. Then you will have the vacuum. Note there is no brush. Whilst you will still use the same backward motion when cleaning. The wand itself can be used to agitate the carpet to loose the deep down dirt.
The great thing about this type of carpet cleaning machine is that it's ideal for getting into those tight awkward spaces. You can also easily go round or underneath furniture. Most wand are clear. So you can see all of the dirty water being extracted.
Both types of carpet cleaning machine can be expensive to buy. So if this is only a one of. And you want to save some money. Then Hiring maybe the way to go. See out Carpet Cleaning Machine Hire article for help and advice.
Let The Carpet Cleaning Begin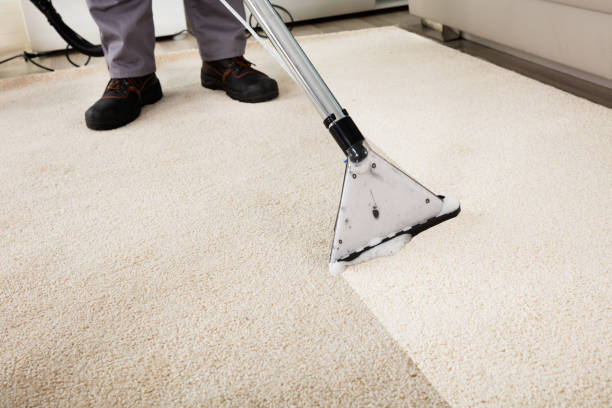 Now that you have had a look and decided what type of machine to use. It is time for the main event.
The main aim is to clean your carpet whilst working you way out of the room. This way you will not be walking all over you hard work. So try to use a plug socket that is another room.
Remember those areas we pretreated? Let's start with those. Use the backward motion to go over those areas. If they are particularly dirty you may have to go over them a couple of times. Once you are happy with the pretreated areas you can then start the carpet cleaning for the whole room.
Start in the furthest corner. Slowly and methodically work backwards towards the entrance of the room. If there is an area you are not happy with simply go over that area again. When done, move onto the next room. Now that you have done the hard work you maybe asking "How often should I be doing this?". Well this is up to you. Some people will only clean their carpets if something has happened. Which can be years. Our article How Often can give you some advise.
Should It Be You Or The Professionals?
Carpet cleaning is not complicated. It is certainly something you can tackle yourself. Especially if you are cleaning your own home or if you are moving into a property.
But what if you are moving out? Well that maybe a different matter.
At best moving is a crazy stressful time. Lots to do and organise. The last thing you may want to do is clean. Especially carpet cleaning. But it may be that it is just not that you do not feel like it. Often moving comes with tight deadlines. Often you just run out of time.
If you are moving from a rented property having the carpet professionally cleaned could be a contractual requirement. So even if you are eager to do it yourself. It might be that you have to call in a professional carpet cleaning company.
When looking for a professional carpet cleaning company make sure you do your research. Ask family and friends for any recommendations. There is nothing better than word of mouth. You'll always get an honest opinion. If you are going to look online then make sure your look at the reviews.
Most carpet cleaning companies will give you a free quote. So get at least three. Ask if they have a guarantee. Especially if you are in a rental property. You want to make the carpet cleaning company will return if the letting agent/landlord are not happy with the clean.
Lastly, always get a receipt for the work so you can prove to the landlord/letting agent that professional carpet cleaning has been done.
How Long Does It Take Carpet To Dry After Cleaning?
Now that all of the carpet cleaning has been done. You will want to know when you can use you carpets.
How long does it take a carpet to dry after cleaning?
5-10 hours
It really depends on the type of carpet you have. How deep is the pile? Is the room warm? Do you have good air circulation? Are dryers being used? All of these questions will help you get a better gage of drying time.
Some, after light carpet cleaning, will only take around 2 hours. Other can take 12 hours or more. To be sure the carpet is fully dry and good to be used again it would be advisable to wait up to 24 hours.